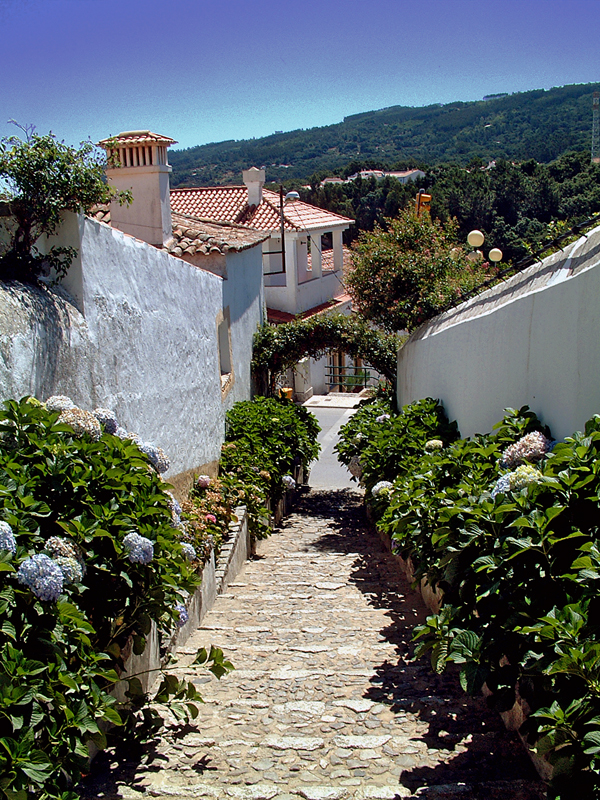 Monchique is a quaint mountain village nestled between the mountains of Foia (902m) and Picota. The borough of Monchique, established in 1773, covers 396.15km2 and forms the backdrop to the boroughs of Portimão and Lagos to the south, Aljezur to the west, Silves to the east and Odemira to the north. Monchique was named by the Romans (Mons Cicus), who originally built the spa at Caldas de Monchique. There is evidence though of the area being populated as far back as the Stone Age.
Often referred to as the "lungs of the Algarve" the folds of the hills and mountains are covered in a variety of trees – cork oaks, chestnuts, eucalyptus, acacias, lemon trees, fruit trees and the strawberry tree (arbutus unedo) which provides the red berries for the famous firewater "medronho". Farming is done on terraces built up with stone walls and everywhere there are water tanks capturing the water flowing from hundreds of natural springs. A drive up the mountain offers amazing panoramic views of the south and west coasts. It is the perfect place for walkers, birdwatchers and cyclists. The local tourist office is well equipped with information and maps of walking trails.
The cooler mountain climate has led to pig farming being an important industry. The region is therefore well known for its variety of traditional sausages and salted hams, showcased at annual fairs – Feira dos Enchidos (sausage fair) which takes place on the 1st weekend in March and the Feira do Presunto (salted ham fair) which is at the end of June. The many restaurants on the mountain do justice to local produce and no visit to the Algarve is complete without a meal of piri chicken over looking the coastline.
The village is characterised by steep, cobbled streets, little doorways and artisanal shops. The main church, Igreja Matriz, dates back to 1661 and is beautiful in its simplicity. The entrance surround is a fine example of Manueline craftsmanship. In the background sits the Convento de Nossa Senhora do Desterro, a 17th century Franciscan Monastery, which although very damaged by the earthquake of 1755 and now in a state of neglect, frames the village beautifully.
Places to visit on the main road up to Monchique are the Parque da Mina and Caldas de Monchique. The villages of Casais, Alferece and Marmelete offer a window on unspoilt rural life.